Fiber optic ring lights provide 360º of shadow free, on-axis, uniform, high intensity illumination. Fiber optic ring lights are used as Stereo & Video Microscope ring lights, and in Photography, Metrology, automated inspection and placement machines.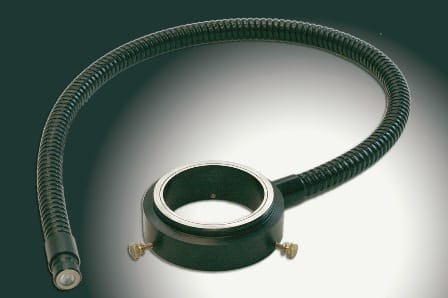 A fiber optic ring light with a quartz-halogen source distributes intense light to the subject, in a small mechanical package, optimizing accessibility to the stage and specimen. Using a dichroic mirror at the light source to filter out IR (heat) wavelengths, fiber optic ring lights (fiber optic accessories in general) transmit "cold" light.
Typical color temperature of the output ranges from 3200°-3450°Kelvin. (See Lamp Characteristics for more information regarding color temperature.) Using an LED light source can raise the color temperature to 6500 degrees K or higher.
Because the light reflects off the subject in a 360º arc, ring lights have proven to be effective in minimizing shadows.
When used with a polarizer set, ring lights are also effective solutions for minimizing specular reflection and glare.
FTI manufactures a family of fiber optic ring lights unsurpassed in quality and performance. Exceptional output uniformity, mounting ease, and a large selection of customizing options and accessories make the product family adaptable to any need.
The standard fiber optic bundle is protected by a flexible PVC sheathed stainless steel tubing. A compact, rugged, black anodized aluminum housing contains and protects the fiberoptic annulus, and anodized aluminum input adapter ensures a long and trouble free life.
Options for Fiber Optic Ring Lights
We offer a myriad of standard options to suit your particular application. Because they're common options, the drawings are already complete. Turnaround time is normally 1-4 weeks, depending on quantity.
You can specify the length, sheathing type, fiber type (glass or plastic), and input type for quick 1-4 week turn around.
We can also modify the working distance, the location fiber exits the body (45° or 90°), and build quartz fiber rings, but these modifications require machining or out sourcing. Add a few days to the lead-time.
Will the fiber optic ring light be mounted on a moving machine? We now offer special glass fiber for dynamic applications, which can withstand up to 6M cycles – an FTI exclusive!
We also offer private labeling (on the input) if the product is used in OEM applications such as microscope ring lights.
FTI Ring Lights
P/N
Description
Ring
Diameter
Working
Distance
Bundle
Length
HT.
I.D.
View
Diagram
FTIRL21190
3.5" I.D.
Annular
4.19"
(106mm)
2-4"
(59-100mm)
33"
(838mm)
1.125"
(28.58mm)
3.5"
(89mm)


FTIRL16856-2.5
2.5" I.D.
Annular
2.65"
(67MM)
2.5-4"
(63-100mm)
30"
(762mm)
1"
(25mm)
2.5"
(63mm)
FTIRL16856-2
2.0" I.D.
Annular
2.13"
(54mm)
2.25-4"
(57-100mm)
30"
(762mm)
1"
(25mm)
2.0"
(50mm)
FTIRL16856-1.25
1.25" I.D.
Annular
1.38"
(41.4mm)
1.5"-4"
(38-100mm)
30"
(762mm)
1"
(25mm)
1.25"
(32mm)
FTIRL16856-1.25-VE
1.25" I.D.
Annular with vert exit
1.38"
(41.4mm)
1.5"-4"
(38-100mm)
30"
(762mm)
1"
(25mm)
1.25"
(32mm)
FTIRL10510
2.29" I.D.
8 Point

N/A
2.6-4"
(66-100mm)
31"
(787mm)
1"
(25mm)
2.29"
(58mm)
Need more information on our ring lights? Contact us.